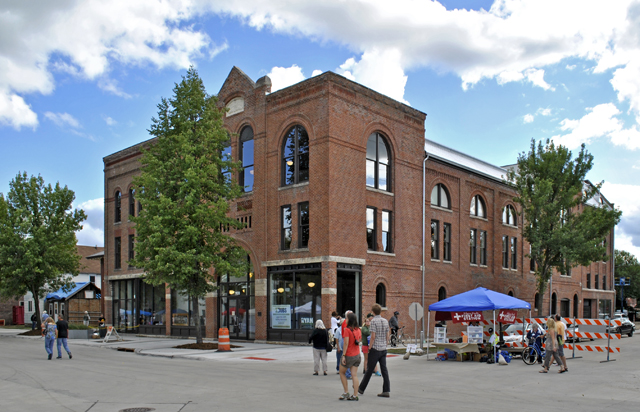 The NewBo Fest was this past weekend, running Friday through Sunday, celebrating all that is going on in New Bohemia, Cedar Rapids' growing arts district just south of downtown. A newly rebuilt 3rd Street, the active spine through the neighborhood, was bustling with a variety of vendors and multiple music stages, set up at NewBo Park, in front of Parlor City, and underneath the old drive-thru canopy at Capone's. While a few flood-ravaged houses and empty lots remain, several smaller buildings have been reopened or are currently being restored.
The historic CSPS Hall (photo above), home of Legion Arts, was open to tour, just days after its grand reopening following a multi-million dollar renovation project to improve the facility after the flood. The restoration enhances the building's versatility for hosting a variety of performing arts, exhibits, and other events. Going back to the building's historic roots as a Czech social hall, new spaces and improved accessibility will allow a much wider array of events and gatherings, both public and rentable for private functions. Perhaps most exciting is the inclusion of three store-front tenant spaces – two front 3rd Street, flanking the grand arched entry, and one along the side facing 10th Avenue. According to our tour guide, co-director Mel Andringa, there has been a number of interests in the spaces for coffee shops/wine bar, a bookstore, and apparel store. In addition to the CSPS Hall, the old firehouse next door was also renovated to provide space for visiting artists or performers to stay.
A block away from CSPS is the Cherry Building, the nucleus of the creative arts community in New Bo. Built in 1911, as a dairy equipment factory for the J.G. Cherry Company, the building is now divided in a number of studio spaces for artists, creative business ventures, and even an organic lip balm company (EcoLips). Since the flood, the first level was remodeled with new windows and finishes, while the upper levels remain less refined and (presumably) more affordable. Some sculpture pieces were on display in an open flex/exhibit space towards the back, while the hallways provide a canvas for in-house artists to display and advertise their work. The building was open today for the festival and a number of studios and businesses had their doors open – I had no idea the place was so full and active.
Street reconstruction work continues on 3rd Street south of 12th Avenue to 14th Avenue, where a few small businesses have reopened, but the area remains pretty desolate. The corner of 12th and 3rd Street is the main intersection in NewBo, now anchored on three corners by restaurant and bars – Chrome Horse, Parlor City, and recently Capone's, opening in the former Village Bank Building. The remaining (NE) corner is the final major component, the NewBo City Market. Set to open next spring, the market will transform an existing metal-sided industrial building set back from the street into a large indoor market hall with a large plaza in front for larger open-air markets in the summer and parking in the winter. An historical storefront facade will be salvaged and serve as the front to a new market store building, to be open more regularly than the market itself. Once open, the NewBo City Market will enhance attractions like CSPS, the Cherry Building, and existing bars and restaurants in the neighborhood.
The addition and improvements of these organizations and facilities, in addition to public investment with new streetscaping, have laid a terrific foundation for private investment to follow and really create a lively, active and urban neighborhood in Cedar Rapids. The synergy of these different organizations and facilities in NewBo will be an impetus for attracting more people and infill development, making the neighborhood even more active and resilient. Despite remain pockets of sparseness, the activity at the NewBo Fest this weekend provided a look into what a typical weekend may look like in a year or two. It's been incredible to watch the transformation thus far, but will be even more exciting to see the changes yet to come. Good things are in store for New Bohemia.