It's been a week since I arrived in Rome now. The past few days since classes began have been fairly routine. We've been drawing a couple hours each day – a quick review of the basics of blind contour, negative space and figure drawing – which has actually been quite delightful. My studio meets in a small room in the back of the studio at Palazzo Cenci (photo above) with access to a small terrace. The desk I sit at looks out a side window facing another building facade with many layers of time, materials, and levels. Occasionally pigeons touch down on decorative ledge in the brickwork. Next week we begin drawing out in the city at various sites.
Yesterday (Wednesday) we had an introductory lecture to a weekly seminar course on Italian design spanning art, architecture, and urban – very intriguing. That afternoon we also had an introductory lecture of Roman urban history by Jan Gadeyne, an accomplished historian, who will be giving the first three lectures. In addition to this course will be weekly Friday walks in the city, first of which will be tomorrow.
Today I had a few hours free between drawing in the morning and Italian in the afternoon; I took a walk north of studio past the Pantheon destined for Richard Meier's very contemporary Ara Pacis Museum. On the way I seemed to discover a large, trendy retail district with several upscale stores as well as recognizable chains …even a Disney Store. The scale of most specialty stores here is so different than in America, several being no larger than a few hundred square feet. During the month of January (Gennaio) every store has large sales (saldi) so one of my tasks this weekend is to do some shopping. See new photos from today's exploration here.
This evening I went up to Viale di Trastevere (the tram street) to buy a sketchbook for tomorrow's history walk. I decided to walk further down the street. After a few blocks there was a noticeable shift from more traditional Roman architecture to a good mix with larger scale early 20th century modernism. This made sense as much of Trastevere sits outside the two original city wall boundaries, making this area relatively new for the city of Rome. It was interesting to see how these modern designs have aged and been adapted.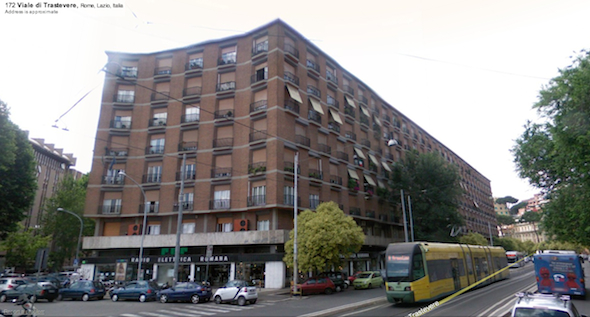 Most were apartment buildings with commercial spaces along the sidewalk. Aesthetically I can't say any of them were particularly attractive, they are still occupied and respectable locations. Some of the drab, redundant facades have been enhanced with shrubbery and plantings at windows and along balconies. The juxtaposition of these large scale exhibits of modernist residential architecture in the ancient city of Rome is fascinating. Entirely different scales and styles, though likely similar densities. This is something I would like to study more during my time living in Rome.
That is all for tonight. Tomorrow's history walk includes the ancient Forum, Palatine, and Colosseum. I'm staying in the city for the weekend and looking forward to more exploring. The Pope is evidently coming to the synagog (a block from Palazzo Cenci – our studio) on Sunday so the are is buzzing to get ready for the big event and security is beginning to be increased as well. It should be quite the spectacle.
Also my friend Dana started blogging tonight about Rome as well. He has a good first post concerning the scale of Rome streets and blocks that can be very deceiving when looking at on a map. It is worth a read here.