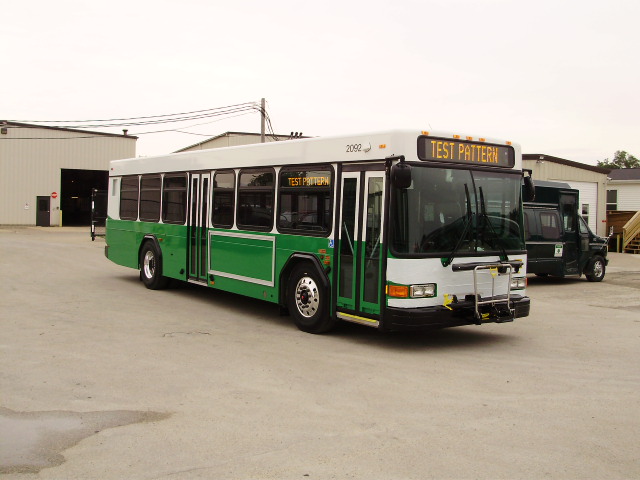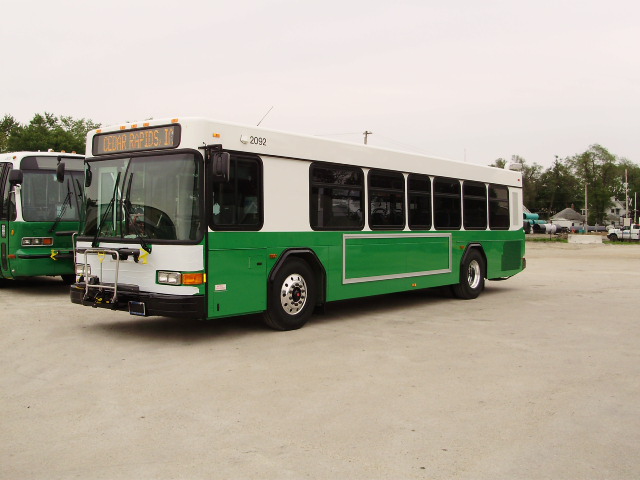 The four brand new 35 foot, 2009 Gillig Lowfloor buses for CR Transit have arrived. They are not out in service just yet, but I was able to get a few preliminary photos of the new buses from fellow transit enthusiast James Roach. In these photos, a few details remain to be added (like the CR Transit lettering, 5 season tree logo, etc). Also the front of the bus below the windshield is green like the sides, it's just still covered up with wrapping in the photos.
The exterior color scheme follows a new "CR Transit" branding that's already in place on the eight used TMC RTS buses purchased earlier this year for flood replacement. The system officially dropped it's former "EAGL" moniker and became known as CR Transit / Cedar Rapids Transit over a year ago. The existing older buses – old RTS's and the Thomas Dennis SLF lowfloors – were not repainted but "EAGL" has been removed and replaced with the stylized "CR Transit" lettering.
This arrival is a pretty big deal, being the first brand new buses Cedar Rapids has seen in 10-15 years. Bill Hoekstra, head of the former combined transit and parking department, was an advocate of purchasing refurbished used buses instead of buying new. This saved the city some money but has done little for the bus system's image. CR Transit will be purchasing additional Gilligs over the next few years to finally modernize the fleet. The new buses, units 2091-2094 (2 is the city dept. code, and 09 refers to year of manufacture). They should be in service within the next couple of weeks.
Check back frequently for new photo updates and other CR Transit news.